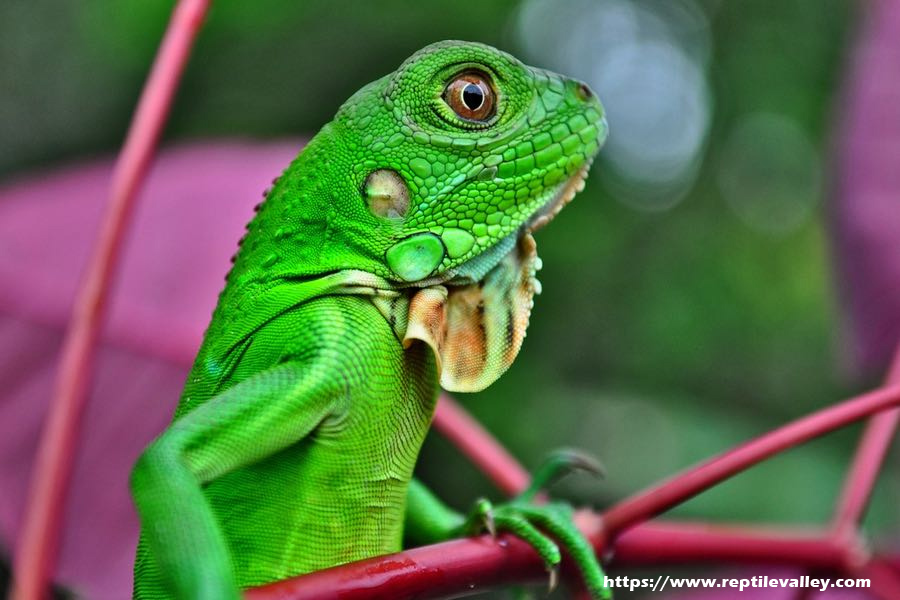 Today iguanas have become a popular choice for pets and they are widely available in pet stores for affordable prices. Iguanas are usually sold when they are still babies and are very cute when they are small. However, it is important to remember that they will grow to be much bigger and may also become more aggressive with time. Therefore it is best to get as much information about iguanas as you can before deciding to get one.
Iguanas keep well as pets but as an owner you need to be responsible enough to provide the correct food and care that is required. You need to understand the basic nature of iguanas, their habitat requirements, their feeding habits and needs and various other aspects related to iguana care in captivity.
Iguanas are members of the family of lizards called the Igunidae and they usually vary in species according to the environment in which they live. While some iguanas live best in the rain forests, others are found dwelling in desert areas. Some iguanas are even found to inhabit the sea. Iguanas are also strict herbivores and they usually feed on fruits, plants and leaves. Besides that iguanas are arboreal which means they enjoy lazing in the tree tops. They are good at climbing and swimming and can live for up to 20 years in captivity.
Male and female iguanas are very different in behavior and featured characteristics. Males usually fight with other males to establish dominance and win over territory. Just like humans, they have egos and they want complete power over their territory and will do anything to accomplish this. Also being dominant helps them mate with plenty of females as females often look for the most dominant males to mate with.
Keeping an iguana as a pet requires quite a bit of effort on your part. You have to clean their cage regularly and keep it hygienic, supply the correct lighting, heat and water, and feed them the correct nutritious foods on a daily basis. Iguanas should also visit the vet once a year for a general check up. Make sure you know about all the aspects to raising an iguana before you decide to purchase one. Once you have all the necessary information regarding pet iguanas, you should be ready to go.